UV-C Radiometer for Excimer & Low Pressure Hg Lamps and UV-C LEDs
Calibrated at 222nm, 254nm & 250-300nm for Disinfection Efficacy Assessment
Far-UVC light, for example 222nm produced by Kr-Cl excimer lamps, has been shown to effectively inactivate bacteria but with less photobiological hazard for humans. This is because far-UVC light cannot penetrate human skin or eyes as deeply as longer wavelength UV radiation.
The X1-1-UV-3727 handheld radiometer provides a real time display of irradiance or dose and includes a peak-hold function. The device may also be operated via its USB interface with optional S-X1 software. The cosine corrected UV-3727 detector is calibrated at 222nm for excimer (Kr-Cl) plus menu selectable calibration factors for common UV LED wavelengths and 254nm low-pressure Hg lamps. Each meter is supplied with a traceable calibration certificate from the ISO-17025 accredited Gigahertz-Optik optical radiation calibration laboratory.
Make Sure Your LEDs Show Their "True Color"
LEDs only show their "true colors" after they have been assembled and under the operating parameters of the particular application.

Get true LED measurement readings with the BTS256-LED
See this LED Color & Light Meter in Action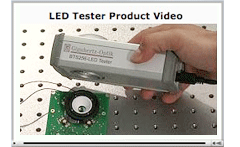 Our 10 minute product video demonstrates all aspects of the BTS256-LED, including software and optional attachments.