Practical Light-Color-Spectral Measurement Instruments
For LED & Any Other Type Light Source
The High Accuracy You Require
Gigahertz-Optik's BTS256-LED Gigahertz-Optik's BTS256 series meters use the latest LED measurement technology to accurately measure photometric quantities with full color and light spectral data included.
The Flexibility You Need
The BTS256 series meters' compact portable design makes it easy for you to maneuver the meter into position, enabling measurement both under real application conditions as well as in the lab.
The Versatility To Do The Job
The BTS256-E Light-Color-Spectral Meter measures illuminance in lux as well as color quantities and spectral distribution. The BTS256-LED Tester can be used four different ways: stand-alone, mounted onto an integrating sphere or goniometer bench or with a diffuser window attachment.
The Capability For System Integration
With our software development kits, you can expand the capabilities of the BTS256 series meters and integrate the meters into your own applications.
Call us today at 1-978-462-1818 for expert advice on your LED light measurement needs.
Measure Any Type Of Light Source Accurately

Precision Engineered For Results You Can Trust
Introducing Jim Leland,
Technical Specialist
We take great pleasure in welcoming Jim Leland, as Gigahertz-Optik's technical specialist based in the USA. Jim has over twenty years' experience in radiometry, photometry, colorimetry and related fields. He has authored numerous papers, patents and industry standards. Jim has served on the executive boards of the Council for Optical Radiation Measurements (CORM) and the US National Committee of the CIE. He is an officer of ASTM E12 (Color and Appearance), chairing subcommittees E12.03 (Geometry), and E12.05 (Fluorescence). He is a member of SPIE, IES, and ISCC. He studied Physics and Philosophy at Princeton University, and holds an MS in Imaging Science from the Rochester Institute of Technology (RIT).
Make Sure Your LEDs Show Their "True Color"
LEDs only show their "true colors" after they have been assembled and under the operating parameters of the particular application.

Get true LED measurement readings with the BTS256-LED
See this LED Color & Light Meter in Action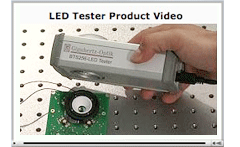 Our 10 minute product video demonstrates all aspects of the BTS256-LED, including software and optional attachments.