BTS256-LED
Practical Hand-Held LED Tester For Complete LED & Light Source Color, Light Intensity & Light Spectrum Measurements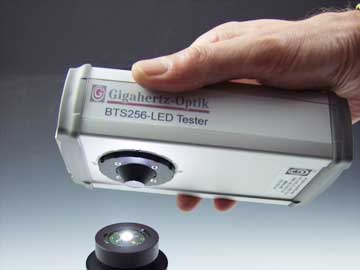 Measure Single LEDs, Arrays or Modules & Light Sources

Under Real Application Conditions

With This Cost Effective LED Color & Light Meter
Easily Measure Narrow Beam Emitting Light Sources & Light Guides
Gigahertz-Optik's BTS256-LED Tester is designed to measure the luminous flux, color and spectral characteristics of individual pc board mounted LEDs, discrete LEDs within a module, miniature lamps, endoscopes and any narrow beam emitting light source.
Measure Directional & Omnidirectional Light Sources and Fixtures
Light intensity in lumens, color and spectral distribution of larger size light sources and fixtures can be measured by attaching the LED tester to a Gigahertz-Optik integrating sphere. Plus illuminance in lux can be measured with the optional diffuser window attachment.
Radiometric, Photometric, Colorimetric Measurands:
Φe (λ) spectral radiant power
Φv luminous flux
Φe radiant power
Es/Ev scotopic / photopic ratio
x; y CIE 1931 color coordiantes
u'; v' CIE 1976 color coordiantes
CCT correlated color temperature
Δuv deviation from the blackbody locus
X; Y; Z CIE color
Ra; R1..15 CRI - color rendering index
λdom dominant wavelength
pe purity
CIE 1931 color graphic
CIE 1976 color graphic
CRI Bar Plot
λp peak wavelength
λc center wavelength
λs centroid wavelength
λ0.5 spectral half-width (FWHM)
TM-30-15 Rf fidelity index
TM-30-15 Rg gamut index
TM-30-15 Rf,h1..16 hue fidelity indices
TM-30-15 Rcs,h1..16 chroma change by hue indices
TM-30-15 color vector graphic
TM-30-15 Rf, Rg graphic
Extra Measurands with BTS256-LED-DA Diffuser Option
Ee (λ) spectral irradiance
Ev illuminance (fc & lux)
Es scotopic illuminance (fc & lux)
Ee integral irradiance
Ez melanopic illuminance
Ee,z melanopic irradiance
Ev,mel melanopic daylight equivalent illuminance
Esc cyanopic illuminance
Ee,sc cyanopic irradiance
Emc chloropic illuminance
Ee,mc chloropic irradiance
Elc erythropic illuminance
Ee,lc erythropic irradiance
Er rhodopic illuminance
Ee,r rhodopic irradiance
Key Components of the LED Measurement Tester
Key components of the BTS256-LED Tester include a built-in 50mm diameter integrating sphere with a unique exchangeable cone adapter input optic nozzle designed to minimize positional error, auxiliary LED for test sample absorption error factor correction, remote controlled shutter for on-line offset compensation of the diode array and Gigahertz-Optik's innovative Bi-Tech Sensor LED measurement technology.
Built-In Integrating Sphere with Exchangeable Input Nozzle

The integrating sphere is made out of GO's ODM98 white diffuse plastic and includes a sealed window light output port. Interchangeable different size input nozzles (placed over the board mounted test LED) screw onto the port.
Different size integrating sphere set-ups for use with the BTS256-LED Tester are available for larger size light source measurement.
High Precision Photodiode/Compact Spectrometer
The Bi-Technology BTS256P light sensor houses both a high precision photometric filtered photodiode for accurate luminous flux detection over a wide dynamic range and a compact low stray light design spectrometer. To achieve more stable readings in low frequency modulated light applications, the fast integral sensor (filtered photodiode) detects the frequency of the AC component of the light signal. Both sensors (integral and diode array) are then synchronized to that frequency.
Ultra Compact Electronically Controlled Shutter
Another important component is the ultra compact electronically controlled shutter for on-line offset compensation of the diode array through dark signal measurement and Gigahertz-Optik's Bi-Tech sensor.
Measure Wavelength Spectral Flux Distribution
Measure and display the spectral flux distribution in W/nm as well as peak intensity wavelength, dominant wavelength, xy and u'v' color coordinates, color temperature and color rendering index. The measured spectral data is also used for on-line correction of the photometric detector for any photopic spectral mismatch error.
Auxiliary LED Lamp
A white LED auxiliary lamp is included to compensate test sample absorbance errors. The PC operated LED measurement tester, auxiliary lamp function and calibration correction for different size input nozzles are all under control of the supplied G.O.O.S. software.
The optional BTS256-LED-ALP Lamp Power Supply is recommended for operation of the integrating sphere's built-in auxiliary lamp. Contact the factory for more power supply options.
Product Specifications
For product specifications and configurable options for the BTS256-LED Tester, please visit the Gigahertz-Optik main website here.
To Order The BTS256-LED Measurement Tester, Call Us Today At 1-978-462-1818.